Platinum Bundle
---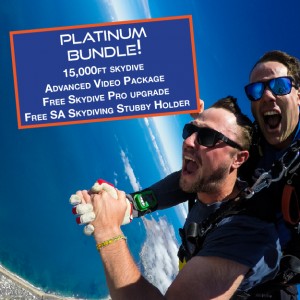 Adelaide's best value skydiving bundle. // 15,000ft Tandem Skydive // Advanced Video Package (incl video and photos) // FREE Optional Skydive Pro Upgrade (deploy your own parachute and control your own flight) // FREE SA Skydiving Stubby Holder
---
Terms and Conditions:
Gift Vouchers must be redeemed before their expiry date. The jump date may be beyond the expiry date. Gift Vouchers may be extended at $25/month. Gift vouchers are valid for 12 months from date of purchase. Gift vouchers may be refunded within 14 days of purchase (with a $45 admin fee), after which time they are transferable. They may not be redeemed for cash. No refunds for lost or stolen gift vouchers.
Full Ts & Cs: http://www.saskydiving.com.au/tandem-skydiving-adelaide/terms-and-conditions/
All skydives completed at own risk & under DZSO approval
We accept EFTPOS and cash. Credit Card & paywave transactions incur a 1.5% surcharge
Weight surcharges: 90 - 95kg: $25, 95 to 100kg: $45, 100 to 115kg: $70. Minimum winds required over 100kg. Max weight 115kg
Under Australian Parachute Federation rules, cameras are not permitted on skydives unless the operator has a C-Class Certificate
Skydives are weather dependent. In unsuitable conditions, skydives will be rescheduled
Reschedules within 48 hours will incur a $50 charge, within 24 hours, a $150 charge.
Please note, Deluxe video packages require advance notice so we can organise your personal cameraman.
Height upgrades and video packages may be chosen on the day.
---