Adrenaline Bundle
---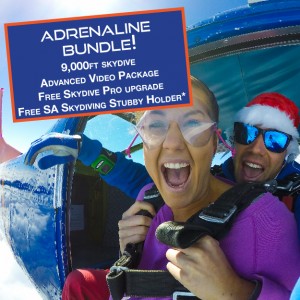 Limited time only // Adelaide's best value skydiving bundle. // 9,000ft Tandem Skydive // Advanced Video Package (incl video and photos) // FREE Skydive Pro Upgrade (deploy your own parachute and control your own flight) // Free SA Skydiving Stubby Holder // Optional Personalised Gift Voucher (call 08 8272 7888)
---
Terms and Conditions:
Gift Vouchers must be redeemed before their expiry date. The jump date may be beyond the expiry date. Gift Vouchers may be extended at $25/month. Gift vouchers are valid for 12 months from date of purchase. Gift vouchers may be refunded within 14 days of purchase (with a $45 admin fee), after which time they are transferable. They may not be redeemed for cash. No refunds for lost or stolen gift vouchers.
BBQ facilites available, heated/air conditioned club room, on site cafe, picnic tables and outdoor seating, open fire pit for the winter, basketball rings, children's playground and green grass landing area right in front of all your friends and family!! (Please, no pets allowed on airfield).
We accept EFTPOS and cash on the day. Please be aware all credit transactions attract a 1.5% surcharge.
Due to highly regulated laws set forth by the Australian Parachute Federation, jumpers with less than 100 skydives are not allowed to bring their own Go Pros or other video & Photography equipment with them on the skydive.
What to bring: comfortable, weather appropriate clothes. Laced, flat soled shoes. Family & Friends. Camera. BBQ supplies. Sense of adventure! Your #skydiversmile
Skydiving is weather dependant. You will receive a weather update via text on the morning of your skydive. If you do not receive this update, please phone 0412114475 to check conditions before leaving.
Please be aware that weight surcharges apply. 90 to 95kg: $25, 96 to 100kg: $45, 101 to 115kg: $70. Minimum winds required over 100kg.
For directions : http://www.saskydiving.com.au/plan/directions/
Please note, Deluxe video packages require advance notice so we can organise your personal cameraman.
Height upgrades and video packages may be chosen on the day.
---