Normanville 12,000ft Tandem Skydive
---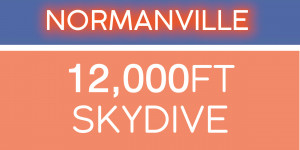 Normanville 12,000ft Tandem Skydive
---
Terms and Conditions:
http://www.saskydiving.com.au/plan/terms-and-conditions/
Bookings made without booking insurance are strictly subject to our standard terms and conditions. Those made with bookings insurance may cancel, reschedule or request refund at any time (except on the day) for any reason.
We accept EFTPOS, bank transfer and cash. Please be aware all EFTPOS transactions attract a 2% surcharge
Weight surcharges: 90 - 95kg: $25, 95 to 100kg: $45, 100 to 110kgs: $70. Minimum winds required over 100kg. Max weight 110kgs
We reserve the right to reschedule your skydive or change operational locations
Skydives are weather dependent. In unsuitable conditions, skydives will be rescheduled
Your choice to reschedule within 7 days will incur a $50 fee, within 48 hours, a $150 fee per person. Failing to arrive on the day will forfeit any deposit, full payment or voucher.
For safety reasons, we reserve the right to change the landing area
Height upgrades and video packages may be chosen on the day or pre-booked by contacting 8272 7888
Gift Vouchers must be redeemed before their expiry date. The jump date may be beyond the expiry date. Gift Vouchers may be extended at $25/month. Gift vouchers may be refunded within 14 days of purchase (with a $45 admin fee), after which time they are transferable. They may not be redeemed for cash. No refunds for lost or stolen gift vouchers.
---