SPRING SPECIAL - 10k Tandem Skydive
---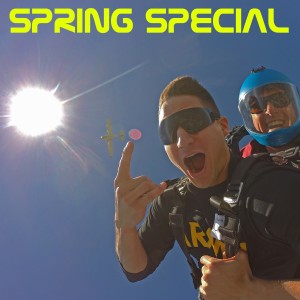 Sprng Special Tandem Skydive - 10000ft
---
Terms and Conditions:
The full value of the gift card is refundable only within 14 days of the purchase date, no exceptions.
This gift card expires 1 year from date of purchase.
You must be at least 18 years or older to skydive, no exceptions.
You must weigh less than 230 lbs, no exceptions.
The consumption of alcohol and/or drugs prior to jumping is strictly prohibited.
Jump must be made on or before 14 MAY 2017. If unable to jump by 14 MAY 2017, additional fees applied.
---