$50 Double Bonus 13k Credit
---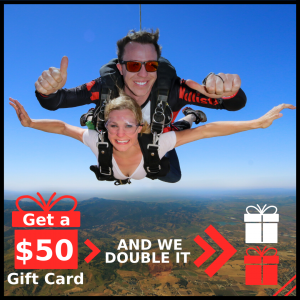 Pay $50 and get $100 credit towards a regular price 13,000 feet tandem skydive.
---
Terms and Conditions:
Gift Certificate never expires and is fully transferable. Promotional value is valid for 6 months from purchase date, which after such period is valid only for purchased price, towards any regular price tandem skydive available. Skydive Hollister does not offer refunds. Skydive Hollister Terms & Conditions applies.
---